EFR – Care fore Children
Emergency First Response – Care for Children Kurs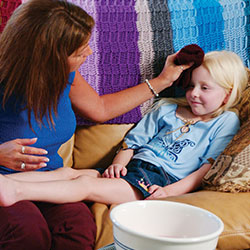 Der Emergency First Response – Care for Children Kurs ist ein innovativer CPR, AED und Erste Hilfe Training Kurs, der den Teilnehmern beibringt wie man bei verletzten oder kranken Kindern (im Alter von 1 – 8) und Babys unter einem Jahr richtig erste Hilfe leistet. Die Teilnemer lernen welche Notfälle bei Kindern auftreten können, und wie sich diese von den Erwachsenen unterscheiden.  The curriculum also includes the importance of attending to basic emergency situations with children, the emotional aspects of caring for children, secondary care for children, and preventing common injuries and illnesses in children.
The Emergency First Response Care for Children course trains the lay rescuer to follow the same priorities of care used by medical professionals. The student masters the priorities and the procedures of patient care for infants and children in a non-stressful learning environment, which reduces the performance anxieties that interfere with learning and enhances confidence when rendering aid in a real medical emergency.
The course includes both primary care (CPR) and secondary care (first aid) skills. The primary care portion of the course prepares the rescuer to help an infant or child with a life-threatening emergency such as choking or cardiac arrest. Secondary care focuses on developing first aid skills and building the rescuer's confidence to help an infant or child in need when emergency medical services are either delayed or unavailable. The Care for Children course content is based on guidelines from the Pediatric Working Group of ILCOR.
Care for Children Primary Care Course Content:
Scene Assessment, Barrier Use, Primary Assessment, Cardiopulmonary Resuscitation (CPR, child and infant), Serious Bleeding Management, Shock Management, Spinal Injury Management, Conscious and Unconscious Choking Management (child and infant)
Recommended Skill
– Automated External Defibrillator (AED) Use (child)
Care for Children Secondary Care Course Content:
Injury Assessment
Bandaging
Illness Assessment